WEB SITES
Looking for a good website without spending a fortune ! You are at the right place.
The website you need
---
– The right technology
– With services or not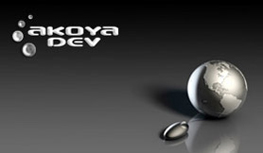 WEB SITE DEVELOPMENT
---
Having a website nowadays is highly beneficial and, more often than not, a must – whether you are a company, a sports club or a non-profit organization. A website increases your visibility significantly and lets you improve communication strategy. For businesses, it is a great tool to leverage profits.
Why would one disregard such a tool when Akoya-Dev could propose tailor-made and efficient solutions? (read: Solutions that will work well at a very reasonable cost.)
On top of that, we offer every service that goes together with a website, such as hosting, content writing, communication strategy and web marketing. Those services are quoted separately, so that you can pick the ones that you think will be most workable for you. You are free to choose, you don't get a bundled quote not knowing what you get charged for.
We work with several technologies ⌈ asp.net for custom-made development, PHP for CMS, or plain html for simple websites. We won't impose what we prefer, but what is the most appropriate for you. After all, you are the customer, and we work for you!